A new generation flight control for FPV by Airbot. The Omnibus F4 V5 is the perfect full-size flight controller for your rig. This flight controller can be easily connected to the Typhoon32 4-n-1 ESC. This 3-6s Flight controller includes a 5V1A on the board and OSD Configuration has been incl. in Betaflight GUI.
This version has added the solid performance of the STM32 F405 MCU to run everything smooth and stable. Additionally, the MPU6000/ICM-20608 IMU over SPI gives you the ability to run gyro updates up to 32Khz - giving you an extra edge over the competition.
On V5, Airbot added jumpers for Current source select, please read the manual and set the jumper before using the FC.
Features
Flight controller designed specifically for betaflight
SmartAudio V2 Support, control your VTX power, channel via the airbot OSD (only supported VTX like the TBS Unify Pro)
SD card reader
Solder jumper selector for PPM/SBUS receivers (no need to remove resistors)
BMP 280 Baro included as standard, runs on SPI bus
Official target within betaflight firmware updater for easy updating (OMNIBUSF4SD)
Latest generation STM32 F405 MCU (168Mhz)
SPI Sensor MPU6000 on 75Mhz SPI bus
Compatible with both SBUS, PPM and DSMX receivers
AB7456 OSD directly configurable via betaflight GUI
Compatible with up to 6S batteries.
Specifications
STM32 F405 MCU, Runs Betaflight 3.0 firmware
SBUS/PPM input (Pinheaders)
6PWM output
Only 36x36mm, mount holes 30.5x30.5mm
BMP 280 Baro
SPI Sensor MPU6000/ICM-20608
128Mbit Flash
Powered directly from 2-6S Lipo (v5 only)
New version with 8PIN Sh1.0 Socket, connect to your ESC with one simple 4-in-1 cable.
New on V5
Jumpers for Current source select, please read the manual and set the jumper before using the FC.
Pinout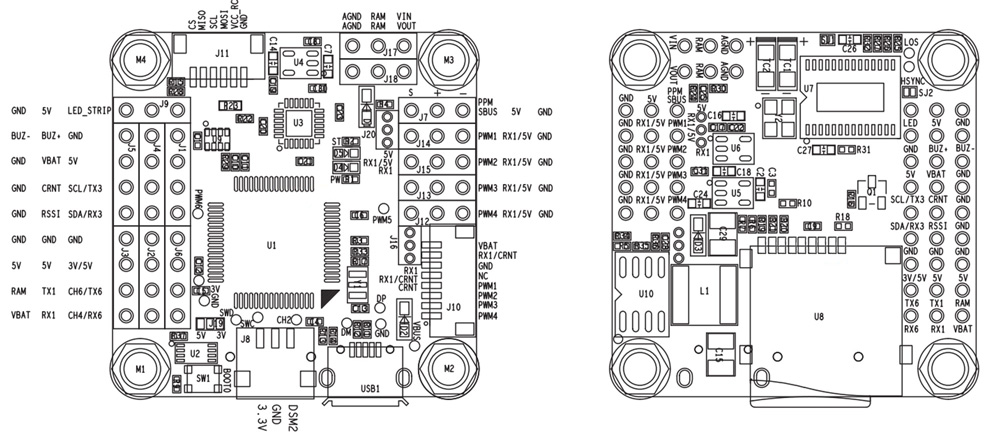 Includes
detailed manual
Why buy from Phaser FPV?
DEPENDABLE - Phaser started in 2012 -Long reputable history & 5 star reviews.
SPEED - All stock located in our retail store in Gosford NSW Australia. - We ship express today, you receive tomorrow.***
TRANSPARENT Stock - If it says in stock on our website, we ship today! If we know the ETA, we also advise of this on each product.
EXPERIENCE - Within our 10 Staff Members, you will find at least two who know, are experienced, and regularly use our products. Confused or not sure what to buy? Please call us and get our advice - We will save you money, do not buy twice.
FREE gift on first and recurring orders
Active on social media - Tag us or DM us!
Large Facebook Community for like-minded individuals.
Piper - Come in-store and meet our friendly, cute, house dog. Careful, she loves to lick!
GST Registered. If you are a business and want to claim GST you may note other niche FPV stores are not registered.