Are you looking to buy a BetaFPV A02 25-800mw VTX in Australia?
The A02 5.8G VTX is a lightweight, small size and high-quality 25-800mW VTX, it offers a selectable 25/200/500/800mW output power for extreme range FPV flight. With 800mW output power, pilots can fly drones up to 1100 meters away to explore more possibilities and fun. Featuring a fixed mounting hole and 6-pin connector, which makes it's super easy to install.  It's a perfect choice for Whoop & Toothpick drones with 26*26mm mounting hole, like the X-Knight series, Beta85X/95X series and TWIG series drone, the A02 25-800mW 5.8G VTX is ready to push your FPV range to the horizons and beyond.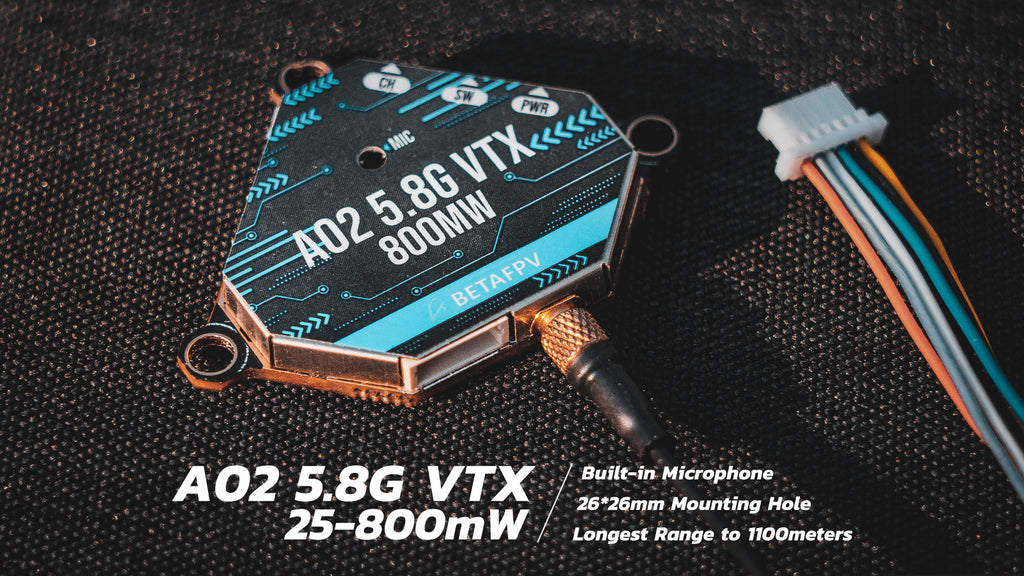 Features
A02 VTX is a high-quality 5.8GHz VTX with strong anti-interference ability and stable transmission. Comes with adjustable 25mW/200mW/500mW/800mW output power, allowing the perfect amount of output power to be selected based upon your FPV needs.
With the 800mW output power, pilots can fly drones up to 1100 meters away, which offers a perfect FPV solution for pilots in search of long-range flight.
At 5.26g of overall weight with a small-size layout, A02 VTX is perfectly suitable for Whoop and Toothpick Quad with a 26*26mm mounting hole, like X-Knight series, Beta85X/95X series and TWIG series drones without any reduction in performance or power.
Come with a built-in microphone, A02 VTX provides a real-time sound transmission, pilots can get a more vivid flight experience.
Featuring a fixed mounting hole and 6-pin connector, less solder work needed, which makes it's super easy to install.
Specifications
Item: A02 5.8G VTX
Output power: 25/200/500/800mW (adjustable)
Supply voltage range: 7-35V
Weight: 5.26g (excluding antenna)
VTX size: 27.3x27.3x4.5mm
Antenna: Air Antenna(MMCX Straight)
Frequency: 5.8GHz 37 channels, with Raceband: 5645~5945MHz
Channel SEL: SmartAudio
Modulation type: FM
Channel Indicate: 3 LEDs
Frequency control: PLL
All harmonic: Max -50dBm
Frequency stability: ±100KHz (Typ.)
Frequency precision: ±200KHz (Typ.)
Channel carrier error: ±1.5dB
Antenna port: 50 Ω
Operating temperature: -10℃~+60℃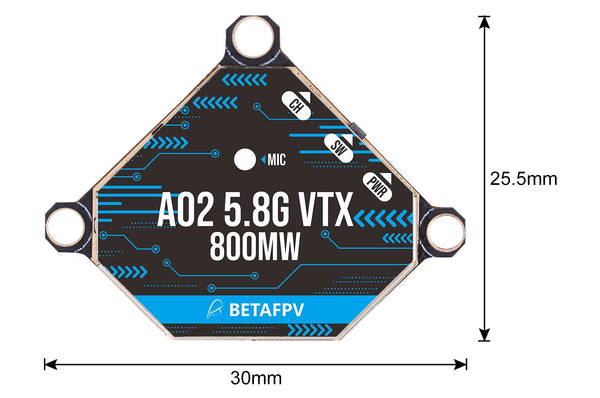 Diagram for M02 VTX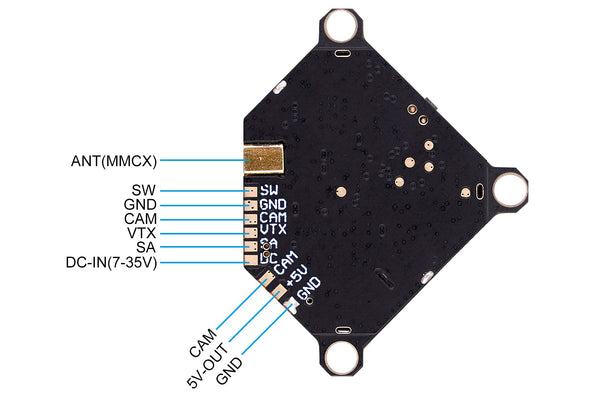 How to Connect with FC
Here is the diagram about how to connect the VTX to Toothpick F722 2-4S AIO Brushless Flight Controller 35A(BLHei_32). The color of the lines in the diagram is the same as the 6-pin connector's wires' color.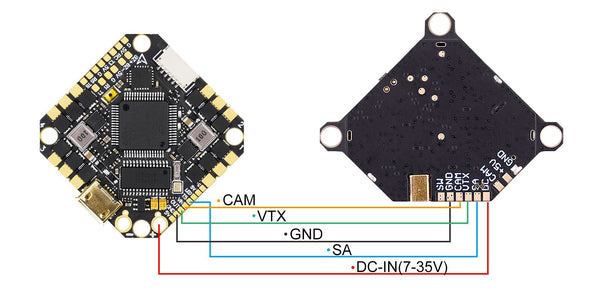 How to Use the PitMode & Change the Frequency and Power
PitMode allows racers to power up their video transmitters during race events without interfering with other racers, and it still has the ability to change VTX settings or do some testing. The range is limited to 2-3m and transmission happens on the selected frequency.
The PitMode is active when the Red/Green/Blue Power LED flash.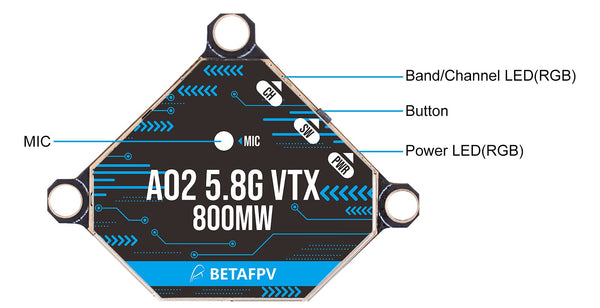 How to active and exit the PitMode
Press the Button on the VTX twice to active Pitmode, double-press again to return to the previous power state. 
How to Change Frequency & Channel & Power
Enter the OSD menu by radio transmitter sticks ( Pitch Stick UP and Yaw Stick Left). Then FEATURES -> VTX SA to change the frequency and power.
Switchable power includes 25mW, 200mW, 500mW and 800mW, and the PitMode is supported on this VTX.
| | | | | | |
| --- | --- | --- | --- | --- | --- |
| RGB | Flash | Green | R+G(Yellow) | Red | B+R(Purple) |
| Power | Pit Mode | 25mW | 200mW | 500mW |  800mW |
Here are the 40CH frequency band and channel indicator status. Please follow the number of LED flashes to adjust your channel.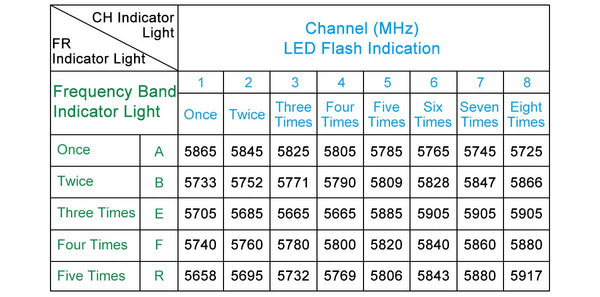 Package
1 * BETAFPV A02 5.8G VTX
1 * 6-Pin FC Cable
1 * Air Antenna(MMCX Straight)
3 * Anti-vibration rubber dampers
Browse more
Why buy from Phaser FPV?
DEPENDABLE - Phaser started in 2012 -Long reputable history & 5 star reviews.
SPEED - All stock located in our retail store in Gosford NSW Australia. - We ship express today, you receive tomorrow.***
TRANSPARENT Stock - If it says in stock on our website, we ship today! If we know the ETA, we also advise of this on each product.
EXPERIENCE - Within our 10 Staff Members, you will find at least two who know, are experienced, and regularly use our products. Confused or not sure what to buy? Please call us and get our advice - We will save you money, do not buy twice.
FREE gift on first and recurring orders
Active on social media - Tag us or DM us!
Large Facebook Community for like-minded individuals.
Piper - Come in-store and meet our friendly, cute, house dog. Careful, she loves to lick!
GST Registered. If you are a business and want to claim GST you may note other niche FPV stores are not registered.