Are you looking to buy a Beta85X FPV quad in Australia?
The Beta85X comes back now with the light F4 AIO 12A FC V2, clear C01 Pro camera, and tough micro canopy! Fast and powerful with the 1105 5000KV motors. Updated F4 AIO 12A FC, which has an 8M Flash chip for Betaflight Black Box and 3 full UARTs (UART1, UART2, and UART6), will definitely give you much more power, enable you to fly on 450mAh 4S battery safely. Perfectly suitable for racing. Fully enjoy the powerful explosive force and an awesome flight experience that the drone brings to you!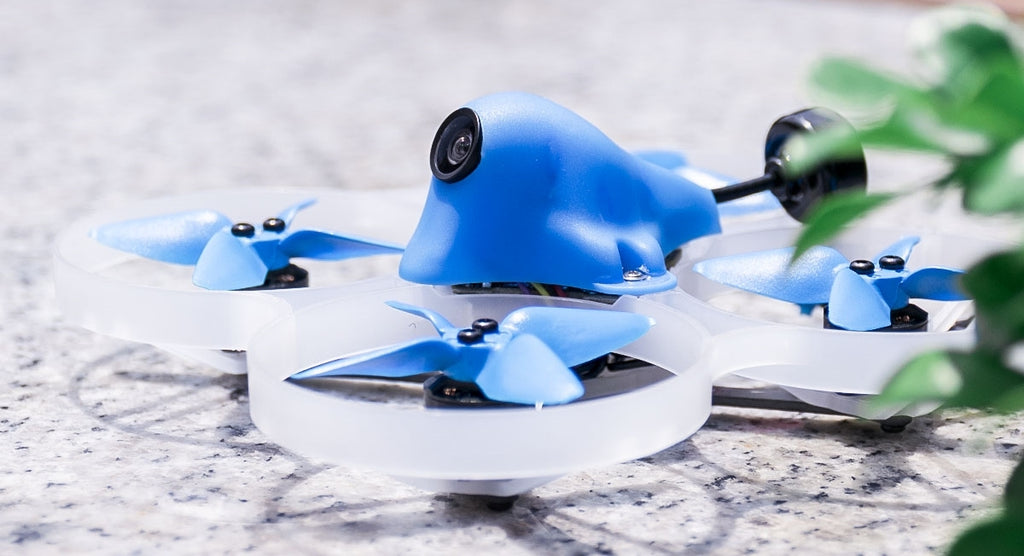 Beta85X pushes the new era of brushless whoop drones to a higher level. With the new power system, you could fly real acro with a C01 Pro camera in racing or freestyle on 4S power.
It comes with upgraded F4 AIO 12A FC, which has an 8M Flash chip for Betaflight Black Box and 3 full UARTs (UART1, UART2, and UART6). Pilots could use one UART for DJI digital FPV unit or Caddx Vista digital FPV unit and the other UART for an external receiver like TBS Crossfire.
Miniature, and lightweight design of C01 Pro camera, weights at only 1.96g, it is with high resolution and 1/3" CMOS sensor, which ensures a high-quality and clear image.
Tough and light enough micro canopy and frame are super suitable for the Beta85X. Whole drone no soldering or tinkering necessary. This canopy adopts with injection molding technique, more durable and flexible. 
Powerful 1105 5000KV motor, with lightweight but definitely will give you extreme power and speed to fly on 4S. The motor comes with cable connectors. Just plug and play. EMAX Avan 2" prop is the best combo in this Beta85X drone.
450mAh 4S high rate battery is recommended by default. But pilot could also use their own batteries with battery strap. Optional and affordable.
For 85mm brushless whoop drones, there are 4 versions for your choice - Beta85X FPV, Beta85X HD, Beta85X 4K, and Beta85X for GoPro..
Specifications
Item: Beta85X FPV
Weight: 61.88g (without battery)
FC: F4 AIO 12A FC V2
Motors: 1105 5000KV with connector
Props: EMAX Avan 2" 4-Blades Props or Gemfan 2020 4-Blades Props
FPV Camera: C01 Pro camera
FPV Canopy: Micro canopy
Receiver Option: Frsky XM+ / DSMX / Futaba S-FHSS / Flysky / TBS Crossfire
Battery: 4S 450mAh Battery (Not including)
5.8G FPV antenna
Flight time: 4min - 6min with 450mAh 4S battery (smooth flight in a windless environment)
FC Specifications
Find more details about this F4 AIO 12A FC V2 on another page.
CPU: STM32F411CEU6 (100MHZ )
Six-Axis: MPU6000 (SPI connection)
Size: 26mm x 26mm, whoop mounting pattern
Firmware version: BETAFPVF411 (BEFH)
OSD: Built-in BetaFlight OSD (STM32 controls OSD chip over SPI in DMA mode)
ESC Specifications
Support BLheli/BLHELI_S suite Pass-through ready
Support PWM, Oneshot125, Oneshot42, Multishot, Dshot150, Dshot300, Dshot600
Input voltage: 2S-4S Lipo
Continue current: 12A
Peak current: 13A
Firmware: BLHELI_S
Processor: SILABS EFM8BB21F16G
Factory firmware: G-H-30-16.7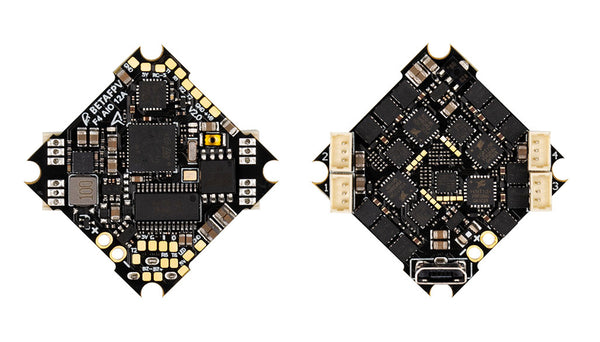 C01 Pro Camera and VTX
Find more details about the C01 Pro camera on another page.
C01 Pro Micro Camera is the lightweight camera customized for those weight-sensitive micro whoop drones. Adapted a 1/3'' CMOS sensor, 2.1mm lens for 1200TVL resolution, and excellent latency while minimizing the weight to 1.96g. At the same time, the 5.8g VTX board has all the other functions of the Z02 camera, like output power switchable between 0mW, 25mW, and 200mW. Smart audio is available for VTX remote control in default.
The C01 Pro camera comes with the FPV version of Beta85X drone. The camera tilt angle is 30 degrees.
Output power: 25mW and 200mW (Adjustable)
Smart Audio function is included for radio control
Frequency: 5.8GHz 6 bands 48 channels, with Raceband: 5362~5945MHz
TV System: NTSC
Lens: 2.1mm(M8) FOV 160°
Note: How to change the frequency or output power via remote control, please check the manual Smart Audio.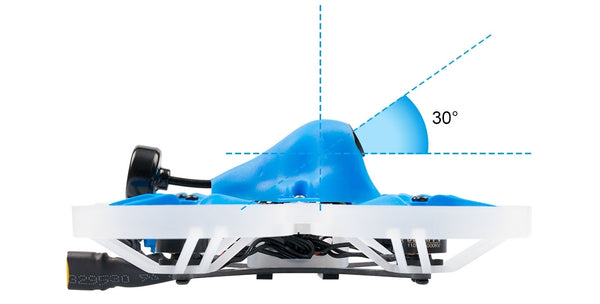 1105 5000KV Motors
Lower 5000KV for Beta85X 4S, which could support 4S power and won't cause the issue of overheat. Providing stronger thrust in 4S whoop drone. Powerful, fast, and durable.
We DO NOT recommend the 1105 6000KV motors for 4S power because the motor may overheat or burn which will cause permanent damage on the motor or ESC. And don't use 1105 5000KV motors for 3S power, the performance will not be as good as the 1105 6000KV motors since lack of power. 
| | | |
| --- | --- | --- |
| Motors | Recommend Battery | Voltage |
| 1105 6000KV | 3S 450mAh Battery | 11.1V  |
| 1105 5000KV | 4S 450mah Battery | 14.8V |
Props Out
The Beta85X drone also comes with "props out" by default. Why we need "props out" direction?
Default Betaflight props direction, quadcopter dips, and "washes out" in hard corners. With reversed props or "props out", no more dipping even in the hardest cornering.
Know more about "Props Out".
Related Detail
For more videos about these Beta85X Whoop drones, please check here:
More Overview Videos
Have any questions about Beta85X Whoop drone? Join our group on Facebook:
BETAFPV - Micro FPV Drones and Gears
POWER-WHOOP GROUP
Join the online discussion about our X Series Whoop drones at RCGroups.com:
Beta65X Beta75X Beta85X
FAQ
1. Cli Dump of Beta85X ( Click here to find the details.)
2. How to set up smart audio VTX control? (Multirotor Guide gives you the most straightforward explanation) How to change the frequency and output power? How to use the PitMode on the A01 VTX?
Please go to the A01 VTX page for details.
Package
1 * Beta85X Whoop Quadcopter(4S)
4 * EMAX Avan 2" 4-Blades Props
There are no batteries included for all versions. Highly recommend the 450mAh 4S battery.
Browse more
Why buy from Phaser FPV?
DEPENDABLE - Phaser started in 2012 -Long reputable history & 5 star reviews.
SPEED - All stock located in our retail store in Gosford NSW Australia. - We ship express today, you receive tomorrow.***
TRANSPARENT Stock - If it says in stock on our website, we ship today! If we know the ETA, we also advise of this on each product.
EXPERIENCE - Within our 10 Staff Members, you will find at least two who know, are experienced, and regularly use our products. Confused or not sure what to buy? Please call us and get our advice - We will save you money, do not buy twice.
FREE gift on first and recurring orders
Active on social media - Tag us or DM us!
Large Facebook Community for like-minded individuals.
Piper - Come in-store and meet our friendly, cute, house dog. Careful, she loves to lick!
GST Registered. If you are a business and want to claim GST you may note other niche FPV stores are not registered.