Are you looking to buy BetaFPV Beta95X For GoPro Hero in Australia?
Based on the Beta95X whoop platform, we designed a BEC board for GoPro Hero, which can be used on the Beta95X for video shooting. The wheelbase is only 100mm and weighs about 86.4g without GoPro and battery. With 2.5" 3-blades propellers, 1106 motors and 16A BLHeli_32 ESC, it could do all the acrobatic motions smoothly, like dive and power loop. We also provide the Beta85X for GoPro too.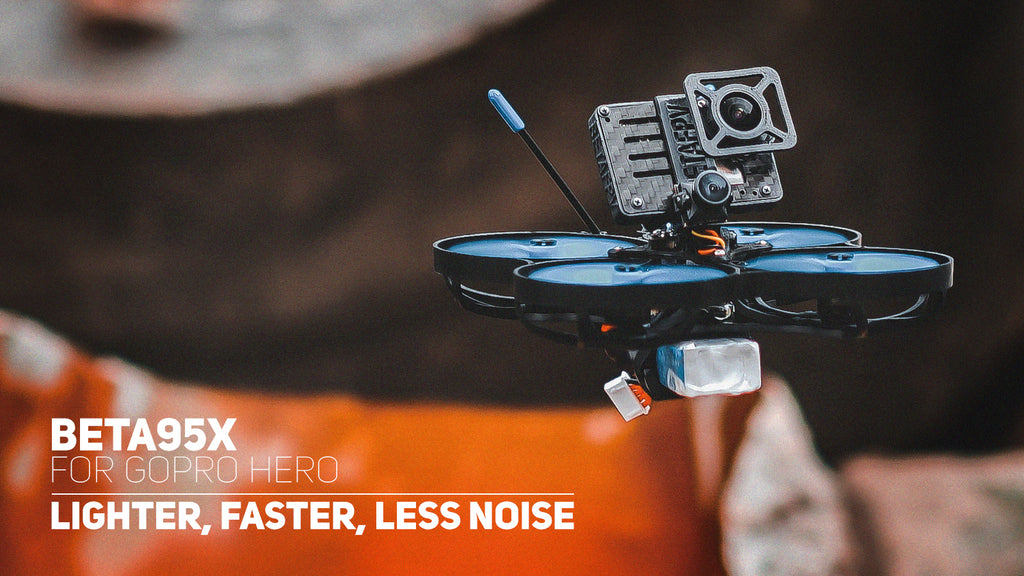 Specifications
Item: Beta95X for GoPro Hero
Weight: 85.2g (without GoPro Hero 6 or battery)
Wheelbase: 100mm
F405 Flight Controller & 16A BLHeli_32 ESC V2.0
Frame: Beta95X Frame
Motors: 1106 4500KV with connector
Props: Gemfan 2540 3-Blades Props
Receiver Option: Frsky XM+ / TBS Crossfire
Battery: 4S 450mAh Battery (Not including)
Camera: Betafpv EOS V2 Camera
Flight time: 4min - 5min with 450mAh 4S battery (smooth flight in a windless environment) 
95X Cinewhoop with Gopro
In recent months, more and more pilots are interested in the super small, lightweight, and powerful Cinewhoop. Pilots like Richárd Papp and Tommy Tibajia started their cinewhoop project on our Beta85X and Beta95X with GoPro or Insta360 for FPV filming. If you wanna know more about cinewhoop, feel free to join us on Facebook.
>> NAKED Cinewhoop Community
Based on the 95X Whoop platform, we design a BEC board for this FPV community which is for the naked GoPro. This whoop drone can carry on the GoPro lite camera and keep in 106g without battery. With a pluggable connector, make it easier to plug in and out.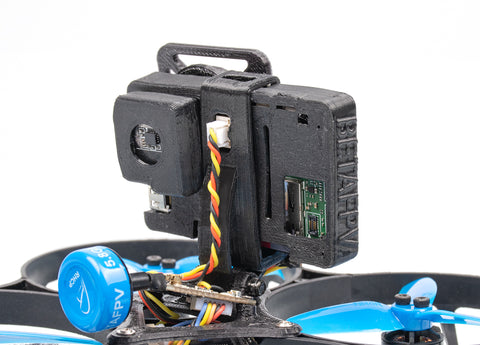 Meanwhile, we designed a camera holder for GoPro Lite camera, so you can install the GoPro Lite camera directly and it is also anti-shake. With the adjustable camera mount of 0-50°, it can be used for the different flying modes of insane flying or slowing flying.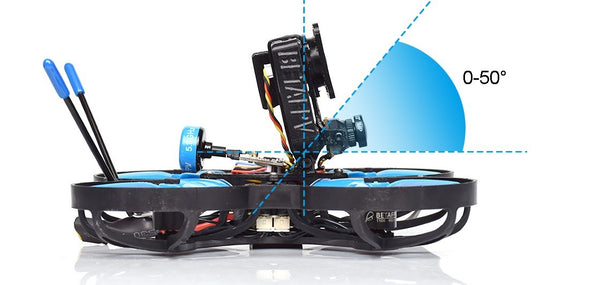 The idea of GoPro Lite
Based on the discussion of the cinewhoop, we designed a BEC board and a fitting case for Naked GoPro Hero 6/7 to make it as a whole GoPro Lite camera. With a pluggable connector and a lightweight of 29g, easier to install on your cinewhoop for FPV filming.
So what is the special of the BEC board? It is integrated with the 5V@2A BEC, the stock GoPro buttons, LED and remote recording, solving the problem of the unstable power supply and redundant FPC connect way. The current BEC board fits for GoPro Hero 6 and Hero 7 Black.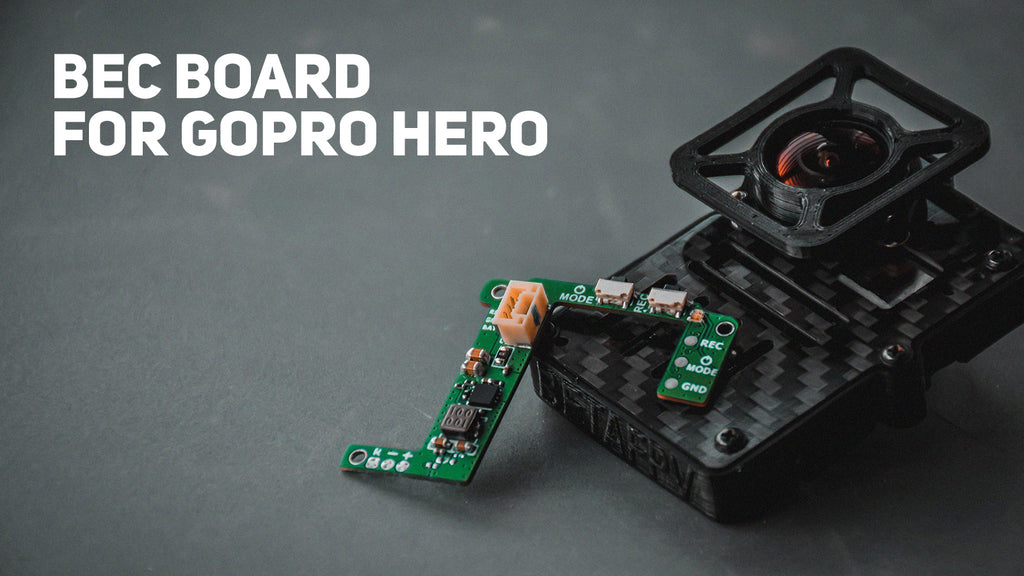 How to Setup Remote Record
Pilot could use the switch on radio transmitter to start/stop record. Some more configuration needed.
For example, if you use F4 FC V2.0 in the drone, like the 95X whoop drone, the connection diagram is shown below. The yellow cable (FC B12 pin pad) is just for the remote record.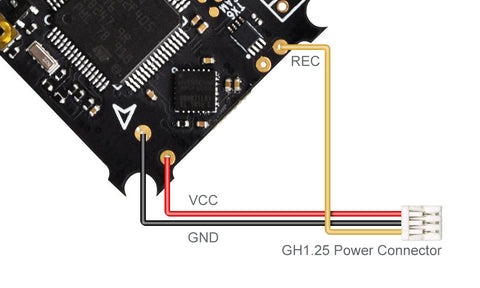 We use the Pinio function in Betaflight to control record. First, setup the Pinio function of the B12 pin in the FC board.
resource FLASH_CS 1 NONE
resource PINIO 1 B12
set pinio_box = 40,255,255,255
save
Next, map one of the switch channels in your radio transmitter to this Pinio (aka USER1). As shown below, we map the AUX4 channel in the radio transmitter to USER1 Pinio. The cursor in the orange zone means button released and white zone means pressed. So keep the cursor in the orange zone in default.

Third, check if the Pinio function works. Change the switch and make the cursor move from the orange zone to the white zone, and finally back to the orange zone. Now you could check the LED status to know if the record starts. Use the same process to stop recording.
If you use the 12A F4 AIO FC board, like the 85X whoop drone, you will use the LED_STRIP pin (aka A08 pin pad) for the Pinio function.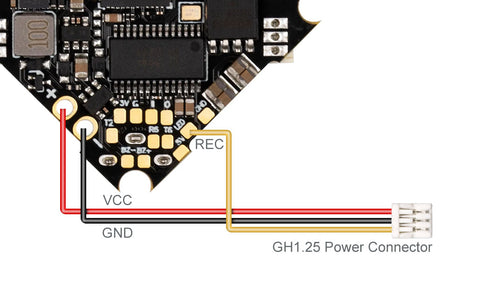 resource LED_STRIP 1 NONE
resource PINIO 1 A08
set pinio_box = 40,255,255,255
save
Package
1 * Beta95X for GoPro Hero
1 * BEC Board for GoPro Hero
1 * Case for GoPro Lite Camera
1 * GH1.25 Power Cable (80mm 30AWG)
1 * Pack of Screws
*Please note that the GoPro camera and the battery are not including. 
Browse more 
Why buy from Phaser FPV?
DEPENDABLE - Phaser started in 2012 -Long reputable history & 5 star reviews.
SPEED - All stock located in our retail store in Gosford NSW Australia. - We ship express today, you receive tomorrow.***
TRANSPARENT Stock - If it says in stock on our website, we ship today! If we know the ETA, we also advise of this on each product.
EXPERIENCE - Within our 10 Staff Members, you will find at least two who know, are experienced, and regularly use our products. Confused or not sure what to buy? Please call us and get our advice - We will save you money, do not buy twice.
FREE gift on first and recurring orders
Active on social media - Tag us or DM us!
Large Facebook Community for like-minded individuals.
Piper - Come in-store and meet our friendly, cute, house dog. Careful, she loves to lick!
GST Registered. If you are a business and want to claim GST you may note other niche FPV stores are not registered.