Are you looking to buy BetaFPV Beta95X V2 Whoop Quadcopter Camera in Australia?
The BETAFPV Beta95X V2, the Pusher Cinewhoop series on BETAFPV. Especially combined with the world's smallest stabilized camera Insta360 Go, you can achieve all FPV freestyle tricks easily like diving but still keep your footage impossibly smooth.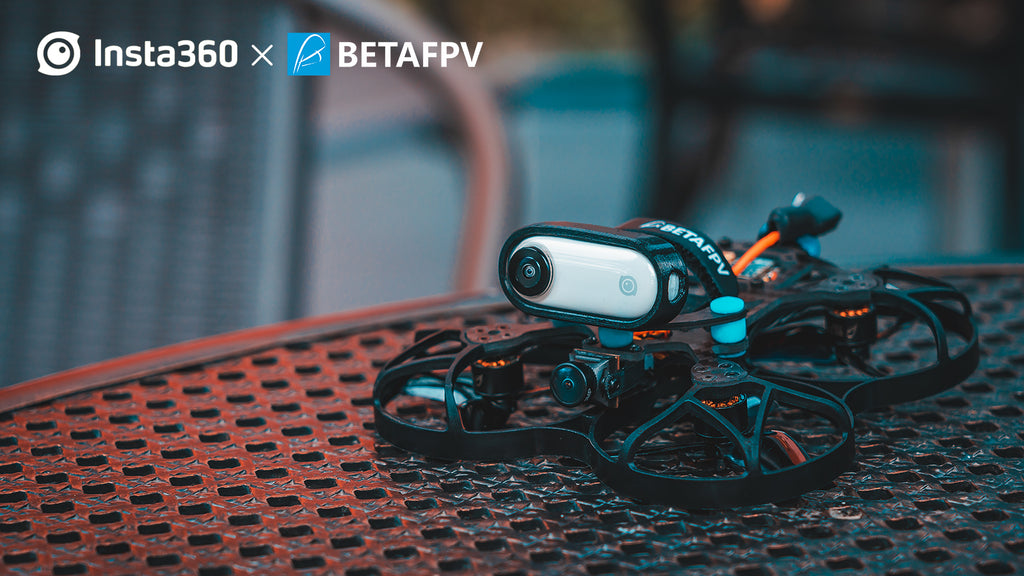 The joint Beta95X V2 with Insta360 Go is the most popular pusher cinewhoop in the current market. Camera and battery are placed on the top platform.
As a 95mm whoop drone, it can support 4S 450mAh battery, powerful and strong enough. 
Customized Gemfan D63 propeller for Beta95X V2, it is more durable than the other propellers, offers pilots a high-efficiency flight experience.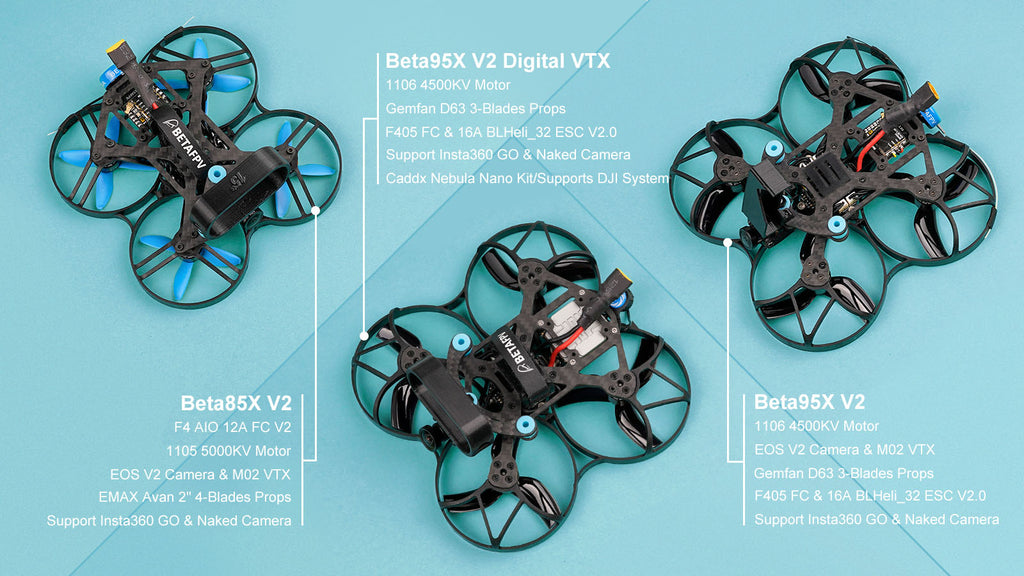 Specifications
Item: Beta95X V2
Weight: 99g (without HD camera or battery)
Wheelbase: 95mm
Frame: Beta95X Frame
FC: F405 Flight Controller & 16A BLHeli_32 ESC V2.0
VTX: M02 25-350mW 5.8G VTX
Motors: 1106 4500KV Brushless motor
Props: Gemfan D63 3-Blades Props
Receiver Option: Frsky XM+ / DSMX / Futaba S-FHSS / TBS Crossfire
Camera: BETAFPV EOS V2 Camera
FPV Camera Degree: 25°-45°
Camera Mount Degree: 15° (Provide the STL file of 25° camera mount)
Battery: 450mAh 4S battery(Not including) 
Flight time: About 3.5min with 450mAh 4S 75C battery (smooth flight in a windless environment)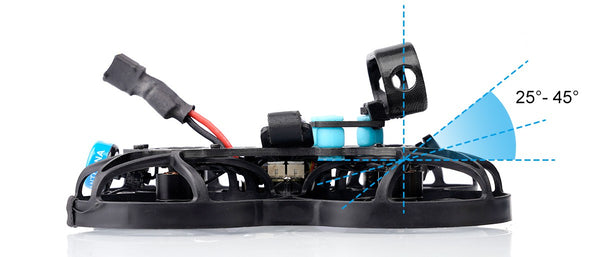 VTX and Camera
BetaFPV EOS V2 Micro Camera
4:3/16:9
Lens: 2.1mm
1200TVL Global WDR
1/3" COMS Sensor
NTSC
BetaFPV M02
25-350mW
 Whats included:
1 x Beta95X V2 Whoop Quadcopter
1 x Insta360 GO Camera Mount
1 x Naked Camera Mount
1 x Case for Naked Camera V2
1 x BEC Board
1 x D63 3-blades propellers(2CW+2CCW)
1 x Screw Pack
Browse more
Why buy from Phaser FPV?
DEPENDABLE - Phaser started in 2012 -Long reputable history & 5 star reviews.
SPEED - All stock located in our retail store in Gosford NSW Australia. - We ship express today, you receive tomorrow.***
TRANSPARENT Stock - If it says in stock on our website, we ship today! If we know the ETA, we also advise of this on each product.
EXPERIENCE - Within our 10 Staff Members, you will find at least two who know, are experienced, and regularly use our products. Confused or not sure what to buy? Please call us and get our advice - We will save you money, do not buy twice.
FREE gift on first and recurring orders
Active on social media - Tag us or DM us!
Large Facebook Community for like-minded individuals.
Piper - Come in-store and meet our friendly, cute, house dog. Careful, she loves to lick!
GST Registered. If you are a business and want to claim GST you may note other niche FPV stores are not registered.