WARNING - This product is classified as a DANGEROUS GOOD [DG] - It CANNOT be shipped overseas.
Please read our battery warranty, safety information and transit times before purchasing.
Are you looking to buy BetaFPV Meteor65 in Australia?
Meteor65, a leading 1S whoop. It's equipped with the BT2.0 connector, lightest F4 1S FC and 0802 19500/22000KV motors. With the stronger and powerful dynamic system, you'll immediately notice how fantastic the 22.84g Meteor racer is at takeoff. It feels amazing as you hover indoors, then let it rip and haul around the house! 
What's more, the Meteor65 comes back with abundant accessories of 2 lipo batteries, BT2.0 charger & tester, extra 1 set of props, 1 screwdriver and a portable bag. It is easy to use and with a reasonable price! Also, the camera angle has been adjusted to 30°, which brings you greater flying experience!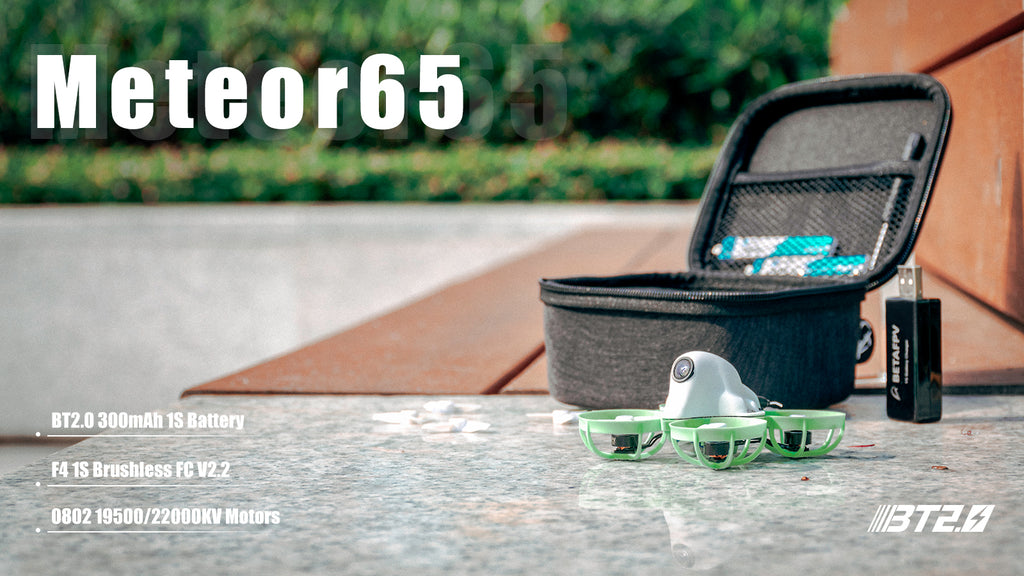 | | | | |
| --- | --- | --- | --- |
| | 0802-22000KV | 0802-19500KV 0603-19000KV | 0603-16000KV |
| Flying Time | 1:30-2:00min | 3:30-4:00min | 4:10min |
|  Speed & Power | Ultra Insane | Insane | Insane |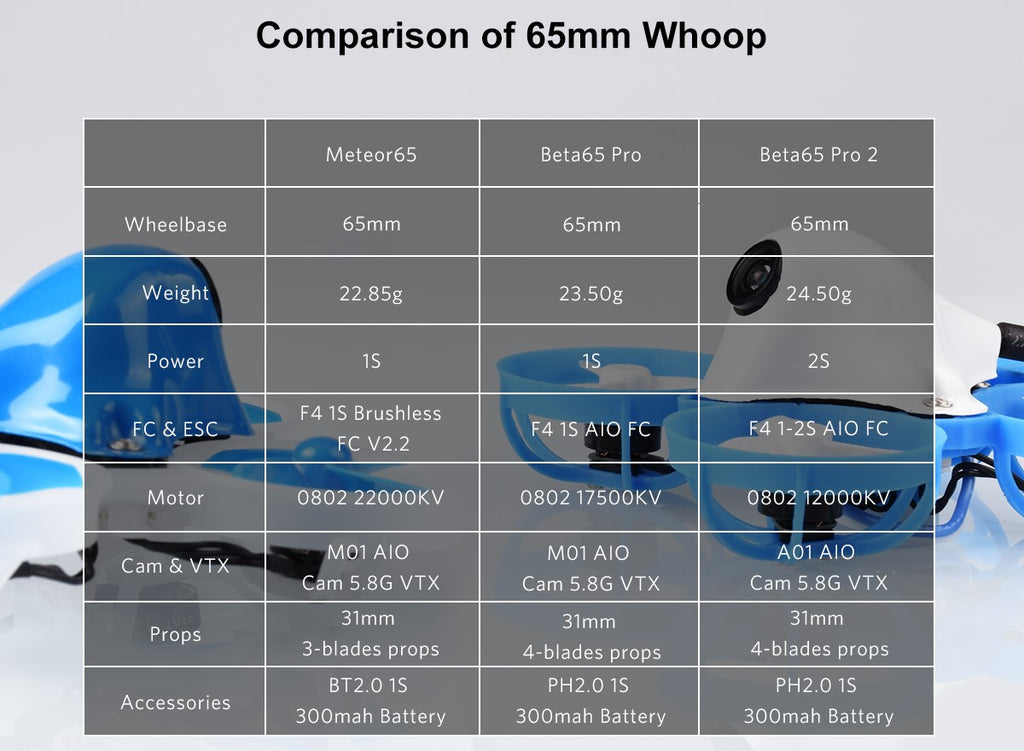 Specifications
Item: Meteor65 1S Brushless Whoop
Weight: 22.84g (without battery)
Motors: 0802 19500 / 22000KV Motors
VTX&Camera: M01 AIO Camera VTX
Canopy: Canopy for Micro Camera
Receiver Option: Frsky XM  / DSMX / Futaba S-FHSS / TBS Crossfire
Battery: BT2.0 300mah Batteries
Flight time: 0802 19500KV motor version: 3:30min-4min / 0802 22000KV motor version: 1:30min-2min
BT2.0 Connector
BETAFPV exclusive designed BT2.0 connector has broken through the bottle-neck of PH2.0 connector. BT2.0 connector has decreased internal resistance of connector effectively allowing more current to be transferred, which means it supports 9A continuous current (15A burst). This means stronger power and longer flight time on 1S brushless drones while PH2.0 just supports 4.5A. You can enjoy more flight time without disturb of low voltage warning due to reducing voltage sag. For more instruction, click here.
See the graph below of comparing the BT2.0 connector and PH2.0 connector (solid pin version) in BETAFPV 1S 300mAh battery. The discharge current is 9A in this test. The BT2.0 has double the time (about 2 minutes) and a 0.2v improvement in voltage sag.
Not sure if it's worth to switch BT2.0? Check more from Joshua Bardwell'video- Proof that BT2.0 connector is better than PH 2.0

More choices of BT2.0 series accessories.  
We know some of pilots might have a question about how to deal with the old PH2.0 1S battery. So we provide some accessories like BT2.0 connectors for those people who want to convert the PH2.0 connector to BT2.0 connector. 
Flight Controller
F4 1S brushless FC V2.2- This is the lightest FC in the current market. It has a
slim and sleek design, weighs just 2.69g and performs better giving it maximum weight savings, power, and responsiveness.
Camera & VTX
M01 AIO Camera VTX- The unit is ultra-lightweight only 3g, perfect for Meteor65. It comes with a super Mini 5.8GHz FPV Transmitter + 600TVL FPV Camera + RG178 Antenna, features 6 bands and 48 channels on the 5.8GHz band with Raceband.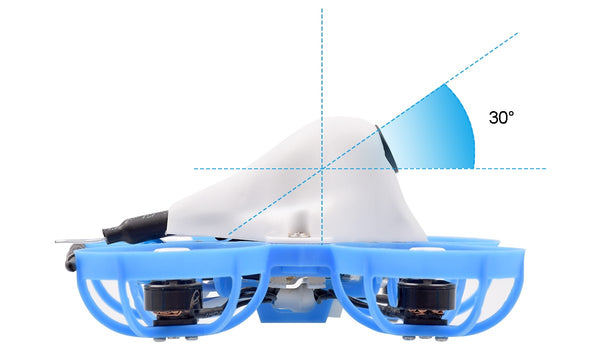 Motors
0802 19500 / 22000KV motors using ball bearing instead of brass bushings, and PCB connector. More durable and easier to repair once disconnection. 
Frame
The lightest lower profile 65mm frame- Meteor65 frame is reduced 0.75g
to 3.14g only. The battery slot is closer to the center of gravity for a
smoother flying experience, and you will land on the motor screws instead of the battery. There are more options for colorful frames such as Beta-blue, mint-green, sakura-pink, mango-orange, etc.
Package
1 * Meteor65 Brushless Whoop Quadcopter (1S)
2 * 300mAh 1S 30C Battery with BT2.0 connector
1 * BT2.0 Battery Charger and Voltage Tester
1 * Customized Carry Case
1 * Spare 31mm 3-blade props (1.0mm Shaft)
1 * Screwdriver
Browse more

Why Choose Phaser FPV?
Here's Why 1000s of Buyers Trust Us
In the sky-high world of FPV drones and related products, Phaser FPV takes you higher and further – while ensuring a smooth ride every step of the way. As a human brand that puts its clients first, here are a few of the ways we keep giving our customers reasons to come back.
Same-Day Ship
If you place your order with us before 1pm weekdays, we'll ship it out on the same day you shopped. When we make a promise, we keep it. You'll be hard-pressed to find any Phaser order that didn't fly out of our facility on the day it was ordered.
Transparent Stock
We keep our website updated like hawks. If you see it and it says it's in stock, you can order it today and get it tomorrow via express shipping.
Highly Rated
We've spent almost a decade racking in countless 5-star reviews. Give them a read and you'll see everything we have said here is true!
Walk In Anytime
Can't wait? Then don't. We're one of the only FPV drone + accessory stores to have a physical brick-and-mortar establishment in Gosford NSW Australia. You'll get to meet one of our friendliest – and fluffiest – employees, the Phaser FPV house dog, Piper!
Tech Precision
Our handpicked team of technology experts specialize in – and are boffins on – every product we sell. This means they can answer any and all of your technical questions with confidence. Go ahead, put us to the test.
Fast Support
We welcome our customers to reach out to us via email, phone, or LIVE chat. Phaser FPV is the only FPV business to have a dedicated phone line.
Get Rewarded
Score a FREE gift on first and recurring orders, and FREE shipping on orders worth $150. We'll even upgrade you to EXPRESS on all orders over $250 (excluding heavy orders)
We're on Social
We have nothing to hide. Follow us on social, tag @PhaserFPV, and become a part of our online community and family in our facebook group.
It's clear to see why most of our business comes through word-of-mouth referrals. When you need the best in FPV, 3D Printing and PEV Vehicles, don't settle for less. Demand the best – insist on Phaser FPV.