Are you wanting to buy the FXT Viper V2 FPV Goggles in Australia?
The FXT Viper V2 diversity goggles carry many unique features to go with it! First off, it uses an integrated refractor to reflect the screen instead of your eyes staring at the screen itself, relieving some of the eye strain typically associated with looking at monitors. Another feature that many will be refreshed to hear is that these goggles work great with glasses, even with the sunshade attached! 
Upgrade V2.0 details compared with V1.0:
DVR recording length is now 10 minutes *previous 3 minutes
Aspect ratio 16:9/4:3 switchable *previous 16:9
40 channels, *previous 37 channels
The built-in DVR uses Micro-SD cards so you can store all your flight footage directly to your card.
Specifications
Screen size: 5 Inch
Screen type: TFT LCD
Resolution: 800x480
Aspect Ratio: 16:9
Brightness: 800cdm2
Format: AUTO/NTSC/PAL
Input Signal: AV/HDMI
Work Status OSD: Yes
Mini HDMI In: 1.1 Digital
Output Signal: AV
Input Voltage: 7-28V
Power Consumption: 560mA 12V
DVR: Yes
Recording Format: AVI
Supported TF Card: Max 32GB Micro SD
Antenna Connector: SMA
Screen Dimensions: 129x89x11mm
Sensititivty: -90dBm
Frequency Range: 5658-5917
Channels: 37
Autoscan Channel: Yes
Audio: 6.5MHz
Object Distance: 43mm
IDP: 63mm
FOV: 45 Degrees
Reflectivity: approx 85%
Power Connector: XT60 (No Battery Included)
Features
Integrated refractor 
Ergonomic design 
Useable with glasses 
High-quality image 
Integrated DVR 
Diversity RX 
Autoscan channels 
Support HD IN
Package Includes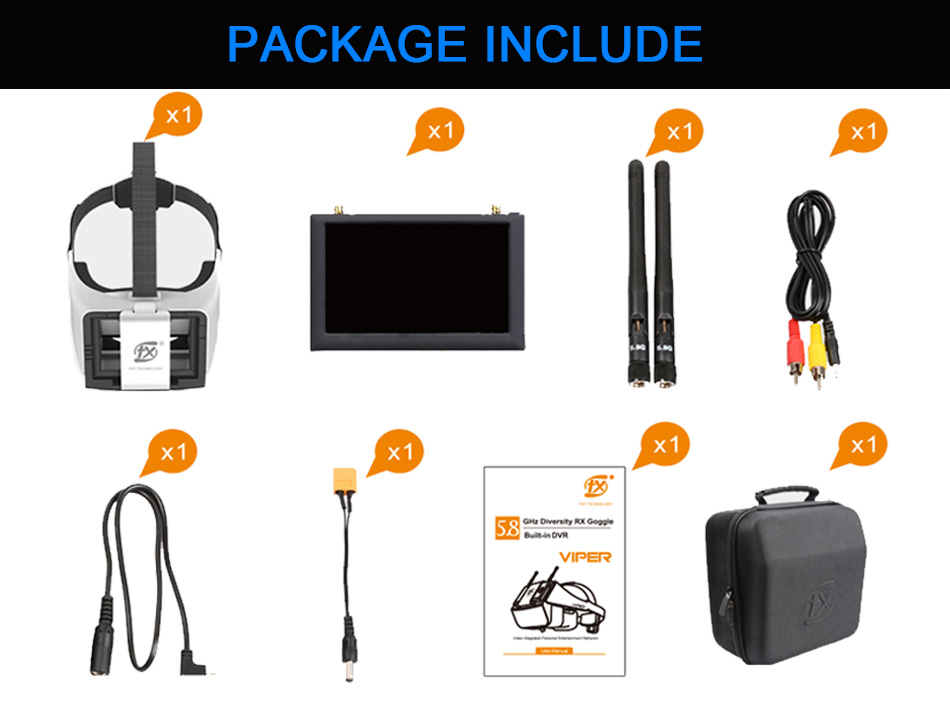 BROWSE MORE
Why buy from Phaser FPV?
DEPENDABLE - Phaser started in 2012 -Long reputable history & 5 star reviews.
SPEED - All stock located in our retail store in Gosford NSW Australia. - We ship express today, you receive tomorrow.***
TRANSPARENT Stock - If it says in stock on our website, we ship today! If we know the ETA, we also advise of this on each product.
EXPERIENCE - Within our 10 Staff Members, you will find at least two who know, are experienced, and regularly use our products. Confused or not sure what to buy? Please call us and get our advice - We will save you money, do not buy twice.
FREE gift on first and recurring orders
Active on social media - Tag us or DM us!
Large Facebook Community for like-minded individuals.
Piper - Come in-store and meet our friendly, cute, house dog. Careful, she loves to lick!
GST Registered. If you are a business and want to claim GST you may note other niche FPV stores are not registered.