Are You Looking For JP4IN1SE Multi Protocol Radio Transmitter In Australia? 
The Jumper JP4IN1 SE Module Latest Version features the CC2500, NRF24L01, A7105, and CYRF6936 RF Chip modules all integrated on one board.
Perfect upgrade module for Frsky Taranis radios. Please note this is the very latest version of the Jumper external module.
This module can convert standard PPM signals form module equipped radios into the RF protocols used by most radios in the market today (See RF Chip data below). This module is plug and play with module equipped radios in the FrSKY series and requires no complex wiring or "hacking" to get running.
The module is a great way to improve the enjoyment of your flying experience, using a better radio such as the FrSKY Taranis series rather than the low-grade radios commonly included with most kits offers a night and day difference in performance. The Jumper JP4IN1 module is also upgradable via USB input.
Specifications
Working voltage: 6-9v
Working current: <=100ma
Operating frequency: 2.4G ISM band
RF power: +22DBM
Main control chip: STM32F103CBT6 (128K ROM, 20K RAM)
Module bay compatibility: FRSky, Jr and other dimensions: 64*49*33 (without antenna)
Net Weight: 42g (including antenna)
Software Compatibility: Suitable for radios using OpenTX or er9x/ersky9x
Firmware updatable: Yes, via USB.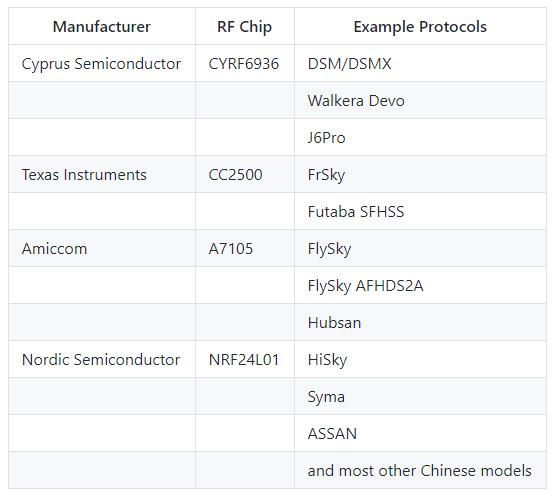 RF Chip Data
Cyprus Semiconductor CYRF6936: DSM/DSMX, Walkera Devo
Texas Instruments CC2500: FrSky, Futaba SFHSS
Amiccom A7105: FlySky, FlySky AFHDS2A, Hubsan
Nordic Semiconductor NRF24L01: HiSky, Syma, ASSAN and most other Chinese models
Link to Github repository
https://github.com/pascallanger/DIY-Multiprotocol-TX-Module
Includes
1x JP4in1 Module
1x Antenna
Browse all Multi-protocal Radios
Browse all modules
browse all jumper
Why Choose Phaser FPV?
Here's Why 1000s of Buyers Trust Us
In the sky-high world of FPV drones and related products, Phaser FPV takes you higher and further – while ensuring a smooth ride every step of the way. As a human brand that puts its clients first, here are a few of the ways we keep giving our customers reasons to come back.
Same-Day Ship
If you place your order with us before 1pm weekdays, we'll ship it out on the same day you shopped. When we make a promise, we keep it. You'll be hard-pressed to find any Phaser order that didn't fly out of our facility on the day it was ordered.
Transparent Stock
We keep our website updated like hawks. If you see it and it says it's in stock, you can order it today and get it tomorrow via express shipping.
Highly Rated
We've spent almost a decade racking in countless 5-star reviews. Give them a read and you'll see everything we have said here is true!
Walk In Anytime
Can't wait? Then don't. We're one of the only FPV drone + accessory stores to have a physical brick-and-mortar establishment in Gosford NSW Australia. You'll get to meet one of our friendliest – and fluffiest – employees, the Phaser FPV house dog, Piper!
Tech Precision
Our handpicked team of technology experts specialize in – and are boffins on – every product we sell. This means they can answer any and all of your technical questions with confidence. Go ahead, put us to the test.
Fast Support
We welcome our customers to reach out to us via email, phone, or LIVE chat. Phaser FPV is the only FPV business to have a dedicated phone line.
Get Rewarded
Score a FREE gift on first and recurring orders, and FREE shipping on orders worth $150. We'll even upgrade you to EXPRESS on all orders over $250 (excluding heavy orders)
We're on Social
We have nothing to hide. Follow us on social, tag @PhaserFPV, and become a part of our online community and family in our facebook group.
It's clear to see why most of our business comes through word-of-mouth referrals. When you need the best in FPV, 3D Printing and PEV Vehicles, don't settle for less. Demand the best – insist on Phaser FPV.