Are you looking to buy RunCam Split 3 Nano FPV Camera in Australia?
The RunCam Split 3 Nano gives you 1080p/60fps HD recording while also utilizing a sharp WDR FPV camera. The Split 3 Nano fits 14x14mm nano-sized camera mounts but comes with a 19x19 adapter. The Split 3 features new updates to the TV-OUT clarity, by reducing the amount of interference and ripple in the video feed. It also has a stronger flexible ribbon cable that aims to reduce the chance of being damaged.
The modular camera system supports replacement lens' that can be manually focused.
Features
1080P/60fps HD recording & WDR FPV camera
Super WDR FPV image with low latency (40ms)
Power-off protection for video files
Simultaneous HD recording and FPV output
Reduced TV-OUT interference
Strengthened ribbon cable
Replaceable lens
Wide voltage range (5-20v)
Specifications
Model
RunCam Split 3 Micro
RunCam Split 3 Nano
Field of View(FOV)
Recording FOV 165°(FPV FOV: 165 ° @16:9, 130 ° @4:3)
Video Resolution
1080@60fps/1080@50fps/1080@30fps/720@60fps
Video File Format
MOV
Image Resolution
2 MP
TV Mode
NTSC (720*480)/PAL (720*576) Switchable
Interface
JST 1.25mm / UART
Max Micro SD Card Supported
64G(need Class 6 or above, recommend Class 10/UHS-I/UHS-II/UHS-III)
Hole Distance of Installation
20*20mm
PCB Size
29*29mm
Lens Module Size
19*19mm
14*14mm
Lens Specs
M12
M8
Power Input
DC 5-20V(Non-direct power supply from battery. Powered directly with battery will generate surges and burn the camera.)
Working Current
650mA @5V / 270mA @12V
Weight
14g
10.5g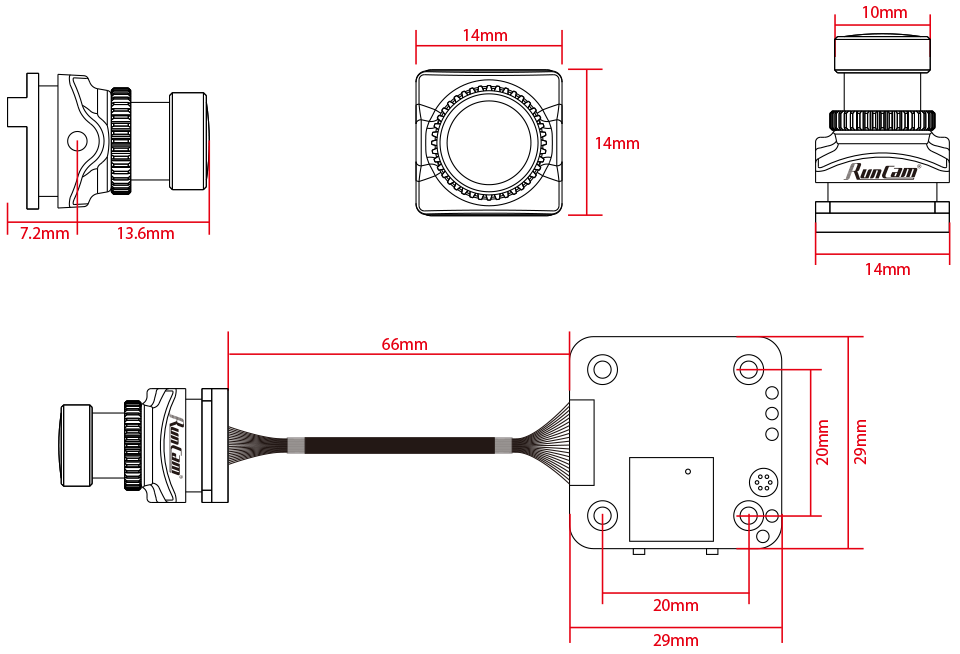 Includes
1x Camera
1x 14 to 19 bracket
1x SD Card Protector
1x 3pin 1.25 JST silicone cable
1x Set of Screws
1x Manual
User Manual
View the user manual for the RunCam Split 3 Nano here 
Browse More
Browse other HD Runcam Cameras
Browse FPV Cameras
Browse all Runcam
Why buy from Phaser FPV?
DEPENDABLE - Phaser started in 2012 -Long reputable history & 5 star reviews.
SPEED - All stock located in our retail store in Gosford NSW Australia. - We ship express today, you receive tomorrow.***
TRANSPARENT Stock - If it says in stock on our website, we ship today! If we know the ETA, we also advise of this on each product.
EXPERIENCE - Within our 10 Staff Members, you will find at least two who know, are experienced, and regularly use our products. Confused or not sure what to buy? Please call us and get our advice - We will save you money, do not buy twice.
FREE gift on first and recurring orders
Active on social media - Tag us or DM us!
Large Facebook Community for like-minded individuals.
Piper - Come in-store and meet our friendly, cute, house dog. Careful, she loves to lick!
GST Registered. If you are a business and want to claim GST you may note other niche FPV stores are not registered.