T-Motor's T3140 tri-blade propeller is a durable small-sized prop with a 5mm center hub. The T3140 features high efficiency, fast response and excellent balance! 
Pick a color! (Clear, Clear Orange, Clear Red, Clear Blue, Clear Gray)
Features
Durable 
High Efficiency
Fast Response, good balance
Available Colors: Clear, Clear Orange, Clear Red, Clear Blue, Clear Gray
Specifications
Length: 3.1"
Pitch: 4.0"
Material: Polycarbonate
Weight: 2g
Hub Thickness: 6mm
Mounting Hole: 5mm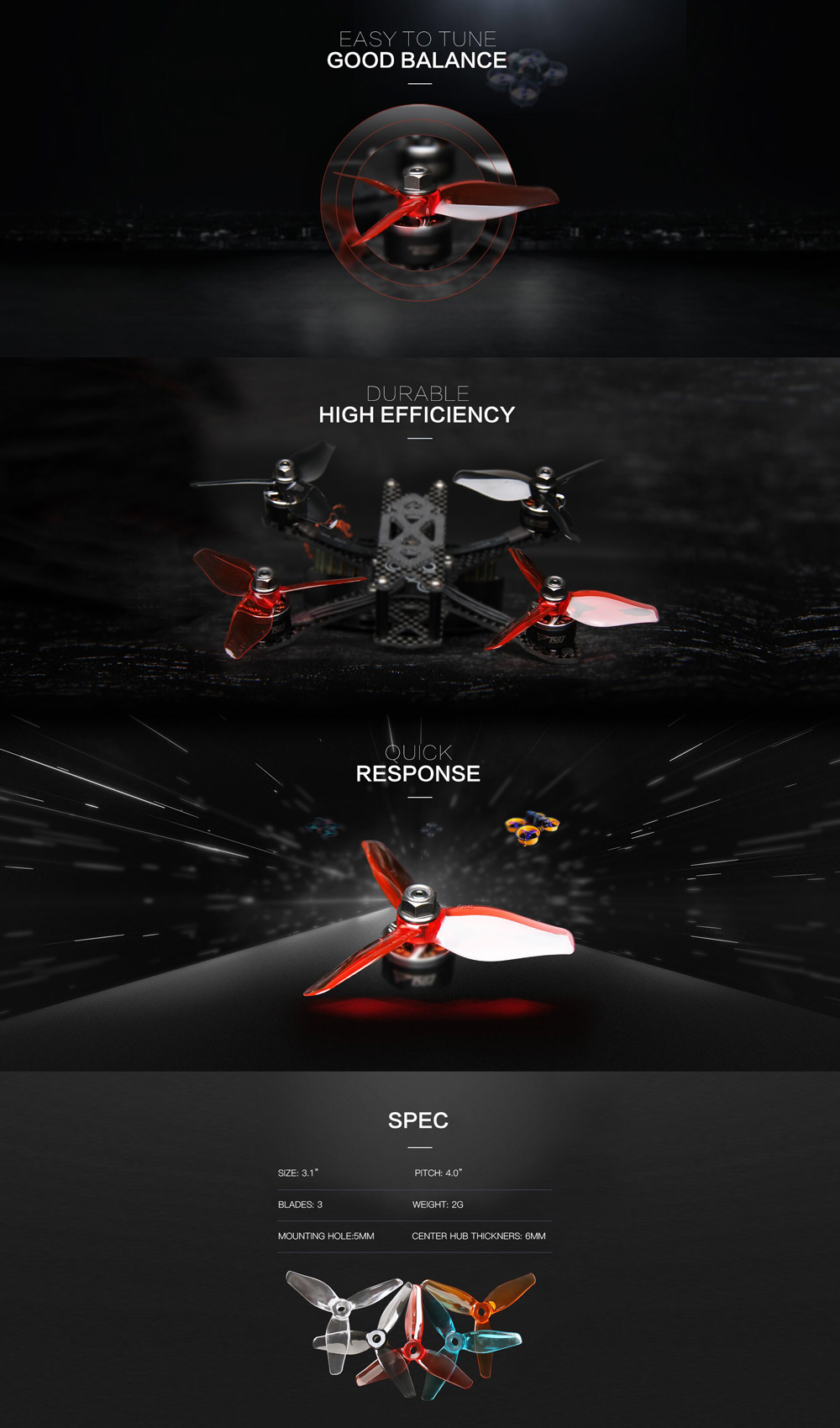 Includes
2 x CW T-Motor T3140 Propeller 
2 x CCW T-Motor T3140 Propeller 
Why buy from Phaser FPV?
DEPENDABLE - Phaser started in 2012 -Long reputable history & 5 star reviews.
SPEED - All stock located in our retail store in Gosford NSW Australia. - We ship express today, you receive tomorrow.***
TRANSPARENT Stock - If it says in stock on our website, we ship today! If we know the ETA, we also advise of this on each product.
EXPERIENCE - Within our 10 Staff Members, you will find at least two who know, are experienced, and regularly use our products. Confused or not sure what to buy? Please call us and get our advice - We will save you money, do not buy twice.
FREE gift on first and recurring orders
Active on social media - Tag us or DM us!
Large Facebook Community for like-minded individuals.
Piper - Come in-store and meet our friendly, cute, house dog. Careful, she loves to lick!
GST Registered. If you are a business and want to claim GST you may note other niche FPV stores are not registered.