Are you looking to buy Zohd Nano Talon Evo in Australia?
An updated version of the Nano Talon! Now introducing the 860mm Wingspan Nano Talon EVO, which is more than just a "straight wing version" of the original one. It comes with many great features like having a bigger NACA air intake to keep all your electronics nice and cool. Built-in carbon fiber spar and extended plywood tray, bigger room to place your 18650 or additional FPV gear. GPS slot, crash-resistant and easily assemble are just some of the few features why the Nano Talon EVO is a must-have!
Specification
Item Name: Nano Talon EVO
Material: Crash Resistant EPP
Wingspan: 860mm (33.85")
Length: 570rnm (22.44in") 11%
Motor: SonnySky 2204-1870KV
ESC: 30A w/5V 2A BEC (Switch)
Servos: 9g Metal Gear
Propeller: 6x3
Flying Weight: 361g (w/o FPV gear)
CG: 3.5cm from the wing leading edge (marked under the wing)
Recommended Parts (Not Included)
Recommended Battery: Lipo from 3S to 4S 1300-2200mAh, Li-Ion 18650 4S1 P 3500mAh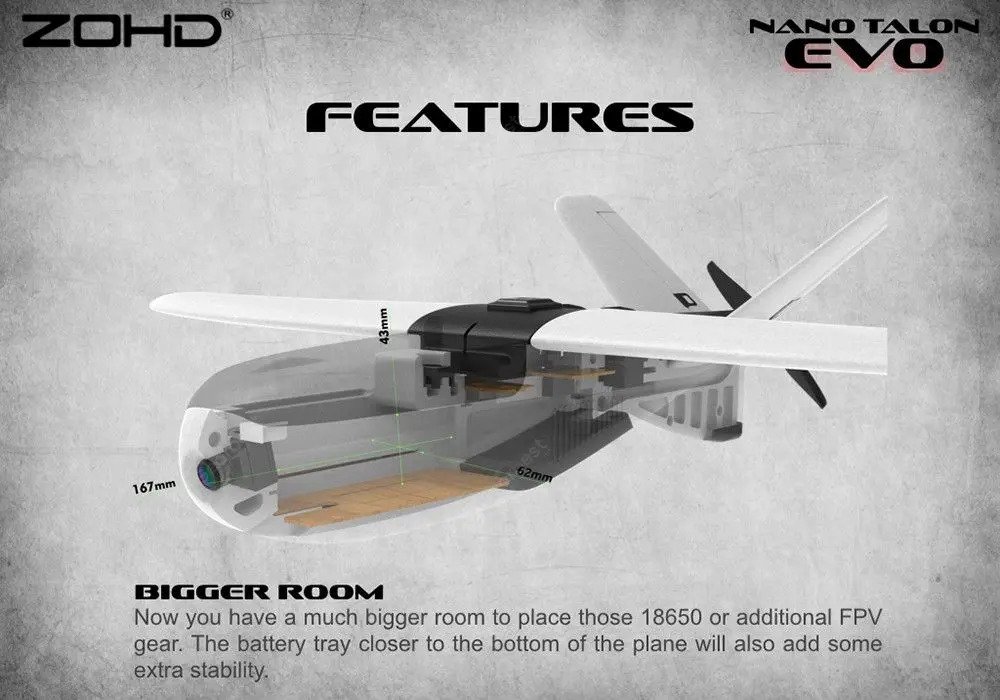 Features
EPP molded wing, built-in CF spar for enhancement, light, flexible and crash-resistant.
Straight wing instead of an anhedral wing to get a more stable and agile attitude.
Updated SunnySky motor with a longer shaft, compatible with regular propellers.
Updated 9g servos from plastic gear to metal gear.
Updated ESC from 30A with 5V 1A Linear BEC to 30A with 5V 2A Switch BEC.
Detachable main wing and tail wing for easy transport, easy to install. Improve connections for better aileron and tails stability
Enlarged battery bay for Lipos from 3S to 4S, and Li-Ions 18650 4S 2P 3500mAh
Bigger NACA air-inlet provides more air cooling for FPV gear inside the fuselage.
Built-in carbon fiber spar and extended plywood inside the fuselage for more strength in case of an impact.
Optional belly mapping camera bay and camera mount for mapping.
Texture marked on both sides of fuselage for a more secure hand launch grip.
Optional Tefl0n cover for fuselage bottom, super durable, protecting the fuselage bottom from scratches on landing.
Video
Includes
1 x ZOHD Nano Talon EVO 860mm FPV EPP Wing - PNP Version
1 x Pre-assembled motor, ESC, servos, propeller
1 x Manual
Browse more
Browse all ZOHD
Browse all Wings
Why buy from Phaser FPV?
DEPENDABLE - Phaser started in 2012 -Long reputable history & 5 star reviews.
SPEED - All stock located in our retail store in Gosford NSW Australia. - We ship express today, you receive tomorrow.***
TRANSPARENT Stock - If it says in stock on our website, we ship today! If we know the ETA, we also advise of this on each product.
EXPERIENCE - Within our 10 Staff Members, you will find at least two who know, are experienced, and regularly use our products. Confused or not sure what to buy? Please call us and get our advice - We will save you money, do not buy twice.
FREE gift on first and recurring orders
Active on social media - Tag us or DM us!
Large Facebook Community for like-minded individuals.
Piper - Come in-store and meet our friendly, cute, house dog. Careful, she loves to lick!
GST Registered. If you are a business and want to claim GST you may note other niche FPV stores are not registered.