WARNING - This product is classified as a DANGEROUS GOOD [DG] - It CANNOT be shipped overseas.
Please read our battery warranty, safety information and transit times before purchasing.
Are you looking to buy a BetaFPV Meteor75 Black Friday Special Edition Quad in Australia?
Meteor75, a better approach to the 75mm micro drone which features high KV motors - 1102 18000KV motors & BT2.0 450mAH battery, giving pilots plenty of power to use both indoor and outdoor spaces as a small scale acro playground.
The Black Friday Edition is all BLACK! 
BETAFPV Advanced Kit 2 - the best RTF kit for the drone starter as well as FPV pros to practice indoor. The special design of the Meteor75 Lite brushless drone, brand-new Lite Radio 2 SE Transmitter and VR01 FPV Goggles, bring you an unforgettable flight experience. To thanks customers' support and love, BETAFPV specially offers BF Edition on this Black Friday holiday.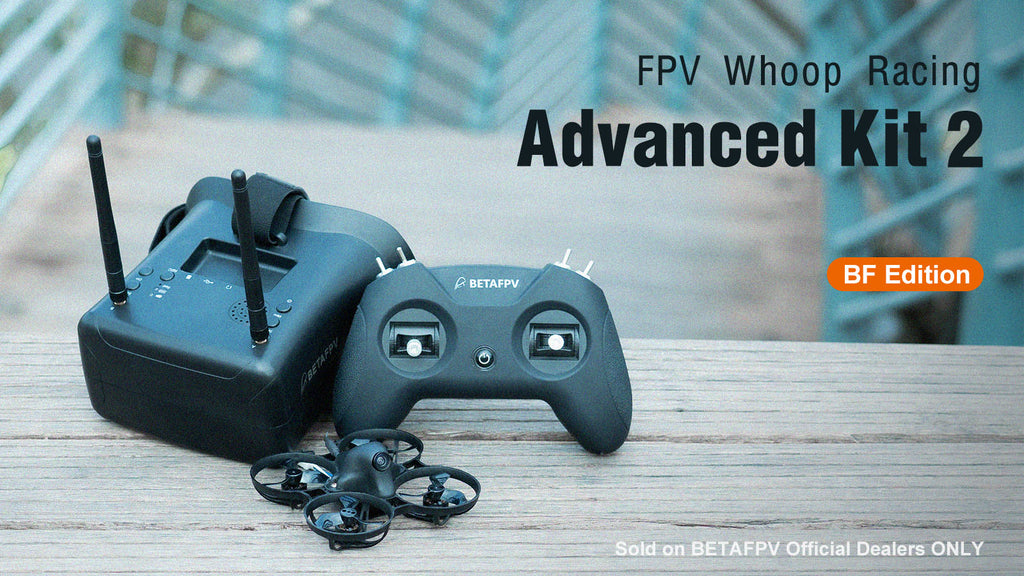 Features:
Brand-new all-black appearance, this kit brings a stronger sense of 

wholeness

, perfect fit the Black Friday holiday.
Due to the popularity of the Meteor series, we especially put the new meteor 75 lite into our advanced kit. It's a lightweight 1S whoop quadcopter, only weighs 28.8g, and is simple to operate.

 With the high-performance FC and motors, it 

gives pilots plenty of power and control both indoor and outdoor flying. 
Special offered LiteRadio 2 SE Transmitter instead of LiteRadio 2, it is also super easy to bind and operate, perfect for the beginner or experienced FPV racer. Meanwhile, it's powered by OpenTX firmware, with 8 channels and hobby-grade gimbals.
With a built-in 1000mah 1S battery, LiteRadio 2 SE Transmitter has an excellent e

ndurance

 performance which can up to 8 hours, bings pilots a better flight experience.
BETAFPV VR01 FPV Goggles has a 4.3 inches 800*480px HD high brightness LCD screen

,

 specially tuned for FPV racing or Model aircraft. The ergonomic design features a foam sponge faceplate and a three-sided adjustable headband. These FPV Goggles fit your face and head perfectly.
This simple and clear user manual has all you need to get fly quickly. The FPV whoop racing advanced kit 2 is a really great Ready To Fly kit to get everyone started indoor and outdoor FPV racing, freestyle or just easy cruising.
All parts are stored in a special customized carry case

,

 which provides better protection and is easy to carry.
Meteor75 Lite Drone
For getting a cool appearance and to increase durability, we specially redesigned the Meteor75 frame. It makes the meteor75 lite look refreshing and unique. Also, the meteor75 lite is the first drone that is equipped with Lite 1-2S Brushless FC which integrates 25mW VTX, supports the Frsky D8 protocol. Featured 1102-18000KV Motor and Gemfan 40mm 3-blade propeller, pilots can get great speed and power. Comes with BT2.0 connector, lots of problems of Ph2.0 connector like voltage sag has been solved perfectly, pilots can enjoy 3-4 minutes flight with BT2.0 450mAh 1S battery. Special offers the replace frame - Meteor75 Frame. 
LiteRadio 2 SE Transmitter
Compared with LiteRadio 2 Transmitter, Lite Radio 2 SE Transmitter is a better choice for FPV racing starters. This radio is not only fully compatible with the Frsky D8 protocol, powered by OpenTX firmware, support firmware upgrade and simulator mode but also updates with remote calibration. What's more, come with a built-in 1000mah 1S battery, Lite Radio 2 SE Transmitter has an excellent endurance performance which can up to 8 hours, bings pilots a better flight experience. (The default version is the Frsky D8.)
VR01 FPV Goggles
BETAFPV VR01 FPV Goggles - a First-Person-View Goggle with 4.3 inches 800*480px HD high brightness LCD which will allow you to experience a bright world without warped and blurred images. Adopt ergonomic design with a foam sponge faceplate and a three-sided adjustable headband, comfortable like cotton, and suitable for all age ranges.
Noticed: Pilots can change the OSD and VTX setting from the Goggle.
Spare Parts List
Comes with spare parts including 2 pcs BT2.0 450mAh battery, 1pc BT2.0 battery charger & tester, super portable for charging. What's more, the Batteries, USB charger and Spare parts for easy repairs. We also provided 4 props and 1 prop removal tool, convenient to exchange the props.
FAQ
Special thanks for the tutorial of Buddy RC, it is a great help for fans to bind the Lite Radio 2 (Also suit for Lite Radio 2 SE Transmitter) to the Meteor75 Lite (If you have trouble on how to bind, this will help you a lot.) The video also shows how to change the video transmitter channel and power and the flight modes of the quad!
 Package
1 * Meteor75 Lite Brushless Whoop Drone
1 * LiteRadio 2 SE Transmitter
1 * BETAFPV VR01 FPV Goggles
4 * Gemfan 40mm 3-blade Propeller(1.5mm Shaft)(Black)
1 * USB Charging Cable
2 * Dipole 5.8G Antennas
1 * BT2.0 Battery Charger & Tester
2 * BT2.0 450mAh battery
1 * Props Removal Tool
1 * User Manual
1 * Customized EVA Carry Case
 Browse more
Why buy from Phaser FPV?
DEPENDABLE - Phaser started in 2012 -Long reputable history & 5 star reviews.
SPEED - All stock located in our retail store in Gosford NSW Australia. - We ship express today, you receive tomorrow.***
TRANSPARENT Stock - If it says in stock on our website, we ship today! If we know the ETA, we also advise of this on each product.
EXPERIENCE - Within our 10 Staff Members, you will find at least two who know, are experienced, and regularly use our products. Confused or not sure what to buy? Please call us and get our advice - We will save you money, do not buy twice.
FREE gift on first and recurring orders
Active on social media - Tag us or DM us!
Large Facebook Community for like-minded individuals.
Piper - Come in-store and meet our friendly, cute, house dog. Careful, she loves to lick!
GST Registered. If you are a business and want to claim GST you may note other niche FPV stores are not registered.